CrossFit Ballwin – CrossFit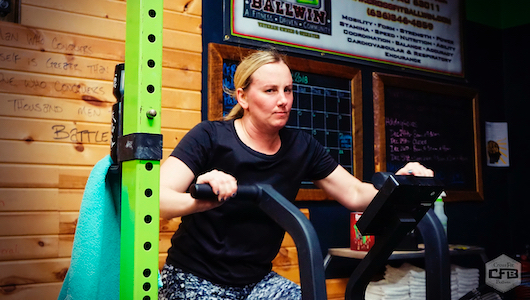 Sarah, saying how much she LOVES the bike!
Warm-up
30 Seconds

Knuckle Drags

Quad Stretch

Active Samson

Active Spidermans

Push-up to Down Dog

Air Squats
Wall Ball Partner Warm-up

Grab a partner and a light wall ball for this warm-up. Place athletes on opposite sides of the room.

:20 Seconds Chest Passes

:20 Seconds Lateral Passes

:20 Seconds Lateral Passes (Other Side)

:20 Seconds Squat Passes
Mobility
Dumbbell Squat Hold: 1 Minute

Dumbbell Ankle Stretch: 30 Seconds Each Side

Chest Stretch: 45 Seconds
Strength & Skill
Alternating Dumbbell Snatch:

1. Both Bells

2. Open & Close

3. Move Prep
Row:

1. Open & Close

2. Move Prep
Lateral Burpees Over Rower & Wall Balls:

1. Brace Yourself

2. Move Prep (Both)
Metcon
We're going to establish this as a new benchmark. So give this WOD all you got and track your numbers! Looking for athletes to choose a wall ball and dumbbell weight that they could complete 21+ repetitions unbroken when fresh.
Vader (Time)
3 Rounds:

24/17 Calorie Row

21 Wallballs (20/14)

18 Alternating Dumbbell Snatches (50/35)

15 Lateral Burpees over Rower