CrossFit Ballwin – CrossFit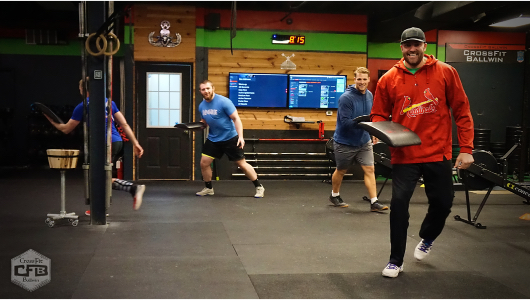 Warm-up
Warmup Run

500 Meter Easy Row
1 Minute Each

Active Samson

Active Spidermans

Push-up to Down Dog
30 Seconds Each Side

Perfomed With Light Dumbbell

Single Dumbbell Deadlift

Single Dumbbell Reverse Lunges (Hold Goblet Style)

Single Dumbbell Strict Press

Single Dumbbell Goblet Squat
Metcon
Quarentined (Time)
2 Rounds:

500 Meter Row

30 Single Dumbbell Box Step-Ups (24/20)

500 Meter Row

30 Toes to Bar

500 Meter Row

30 Single Dumbbell Power Snatches
Dumbbell: 50/35
Corona WOD (at Home)
52 Card Pick-Up at Home (Time)
52 Card Pick-Up at Home
Number represents repetitions (Face cards = 10)

Suit represents the movement.
Hearts = Sit-Ups

Diamonds = Air Squats

Spades = Push-Ups

Clubs = Burpees

Jokers = 1 minute Plank Hold
*Cards are flipped over one at a time.

*Complete the repetitions before moving to the next card.

*Score is the time it takes you to make it through the deck.