CrossFit Ballwin – CrossFit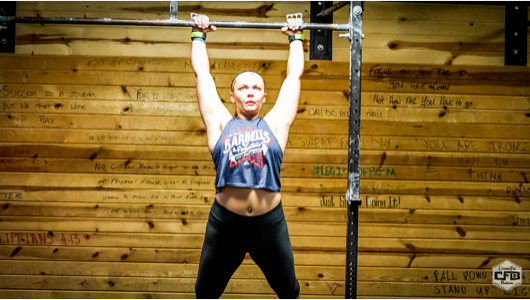 Daily Mindset
"The future belongs to those who prepare for it today." – Malcolm X

There's something intoxicating about planning for the future. It's the dream-world.

Yet when it's time to cross the bridge, from planning to execution, many lose their way. And nothing materializes.

View "preparation" as two equal parts:

1. Thought

2. Action

Without the thought behind, it's wasted energy in multiple directions. 
Without action to follow thought, it's nothing but a pipe dream.
Warm-up
PVC

0:30 Mountain Climbers

0:30 Active Spiderman

0:30 Standing Straddle Stretch

0:30 PVC Pass Through

0:30 PVC Around the World

0:30 PVC Snatch Grip Deadlift
EMPTY BARBELL

5 Barbell Good Mornings

5 Snatch Grip Behind the Head Push Press

5 Snatch Grip Deadlifts

5 Hang Power Snatches
Weightlifting
Power Snatch (2-3 Warm-Up Sets; 2 x 3 Working Sets)
Push Press (2-3 Warm-Up Sets; 2 x 3 Working Sets)
Metcon
"I LOVE THIS BAR" (2 Rounds for reps)
[COMPETE/TRAIN]
AMRAP 7:

Power Snatches (115/85)
**On the Minute: **

7 Toes to Bar

Rest 6 Minutes
AMRAP 7:

Bar-Facing Burpees

**On the Minute: **

7 Push Press (115/85)
[SWEAT] Use:

Weight – 95/65

*Score = Athletes will log Reps of Power Snatches and Reps of Bar-Facing burpees. Overall score is the Sum Total Reps
**On the Minute, starts at 0:00
After Party
MOBILITY

1:00 Banded Pec Stretch (L/R)
AFTER CLASS

3 Rounds for Quality

0:30 Superman Hold

1:00 Bear Hold (Bear Crawl position hold)

10 Med Ball Hamstring Curls
Modifications
POWER SNATCHES

-Reduce Load

-Single Dumbbell Power Snatches

-Kettlebell Swings
TOES TO BAR

-Reduce Reps

-Knees To Chest

-2x Sit-Ups
BAR-FACING BURPEES

-Lateral Barbell Burpees

-Regular Burpees
PUSH PRESSES

-Reduce Reps

-Reduce Loading

-Double Dumbbell Push Presses