CrossFit Ballwin – CrossFit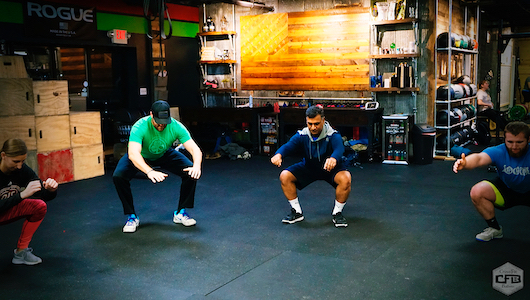 Get that squat!
Warm-up
:30 Seconds

Medicine Ball Foot Taps

Easy Single Unders

Active Samson

Medicine Ball Deadlifts

Quick Single Unders

Active Spidermans

Air Squats to Medicine Ball

Higher Single Unders

Push-up to Down Dog
Mobility
Child's Pose on Kettlebell: 1 Minute

Kettlebell Ankle Stretch: 45 Seconds Each Side
Strength & Skill
Double Unders:

1. Midline

2. Move Prep
AbMat Sit-Ups:

1. Breathing
Wall Balls:

1. Hands Under

2. Legs Straight

3. Move Prep
Kettlebell Swing:

1. Legs Straight

2. Arms Back

3. Move Prep
Metcon
Looking for athletes to choose a weight that they are capable of completing 25+ repetitions unbroken when fresh.
Layup (Time)
For Time:

50-40-30-20-10:

Double Unders

AbMat Sit-ups
Directly Into…
5-10-15-20-25:

Kettlebell Swings (53/35)

Wall balls (20/14)