CrossFit Ballwin – CrossFit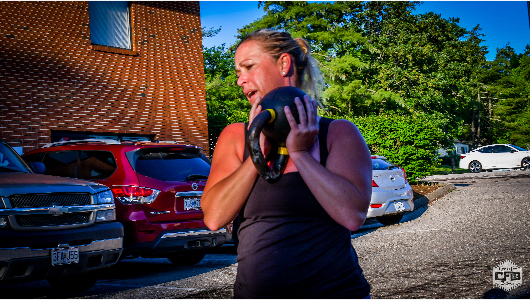 Daily Mindset
"Your actions speak so loudly that I can't hear what you're saying."

It's not about what we talk about, but what we tolerate.

When we think of our greatest role models, those we truly look up to in life, there's a consistent commonality we'll notice… their action under adversity. They achieved something great, under incredibly hard circumstances. They overcame a specific challenge in their darkest hour. And for that, we remember them.

Our identity isn't shaped by the good times… but the challenging ones. In those moments, it'll never be about what we say, but what we do.
Warm Up
Activation

:30 PVC Pass Throughs

:30 PVC Around The Worlds (each side)

:30 PVC Lat Stretch (each side)

:30 PVC Overhead Lunges (in-place)

:30 Good Mornings

:30 PVC Strict Press
Get Hot

20 Squats

15 Sit-Ups

10 Push-Ups

5 V-Ups
Strength & Skill
Focus: The Swing & The Spine – Finding optimal end ranges
Metcon
"RUN IT BACK" (1 Rounds for reps)
COMPETE

On the 4:00 x 6 Rounds:

12 Pull-ups

21 Kettlebell Swings (53/35)

400 Meter Run

*Score = Enter times for all rounds. The score is the slowest round.
TRAIN

On the 4:00 x 6 Rounds:

8 Strict Pull-ups

21 Kettlebell Swings (53/35)

400 Meter Run
SWEAT

On the 4:00 x 6 Rounds:

12 Pull-ups

21 Kettlebell Swings (35/26)

400 Meter Run
After Party
2:00 Child's Pose

(:30 hands down the middle, :30 hands move to the left, :30 hands move to the right, :30 hands down the middle)

2:00 Pigeon Stretch (1:00 each side)

1:00 Standing Calf Stretch (:30 each side)
BEYOND THE 60

3 Giant Sets:

Max Reps Barbell Strict Press (40% of 1RM Jerk)

10 Supinated Grip Ring Rows

20 Single Leg Glute Bridges (10 Each Side)
Modifications
PULL-UPS

Decrease Reps

Strict/Banded Pull ups

Jumping Pull-Ups

Ring Rows
KETTLEBELL SWINGS

Decrease Load/Reps

Decrease Range of Motion (Russian Kettlebell Swings)

Single DB Swings
RUN

Decrease Distance

500/400m Row

400/350m Ski Erg

25/18 Calorie Bike

30 Ten Meter Shuttle Runs