Announcements
Join us for Hooverball and a BBQ on June 24th from 11-2 at New Ballwin Park!
CrossFit Ballwin – CrossFit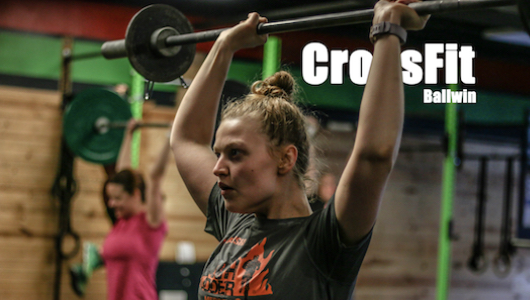 Kathryn Bielecki
Warm-up
Warm Up #6 (Run) (No Measure)
Run 2 Laps

15 x Air Squats

10 x Push Ups

5 x Pull Ups

30 sec Hollow Hold
FOCUS ON DYNAMIC STRETCH/MOBILITY
Metcon
Metcon (AMRAP – Reps)
AMRAP 22

In teams of 3:
10 Calorie Row

50′ DB Weighted Lunge

10 Toes 2 Bar
*Once the partner has completed Walking Lunges, the next partner may start Calorie Row.

*Each 5′ in the Lunges are a rep (10 possible reps)
Dumbbell Weight:

Rx 50's/30's

Sc 25/Unweighted
Strength & Skill
For the remainder of class time, focus on static/active mobility specific to your sticking points. Work with a coach for suggested areas to start. PUT AT LEAST TWO AREAS THAT YOU WORKED ON, IN THE WODIFY. This information will be important to moving forward.
Metcon (No Measure)
Two Areas of Mobility