CrossFit Ballwin – CrossFit
1) Don't forget our 4th annual Murph Challenge on this coming Memorial Day. Classes will be at 8:30am & 10am (29May2017)
2) This week we are going to heavily focus on breaking the Snatch down & getting those pesky Double Unders. If you already know how to do it, reset & refocus.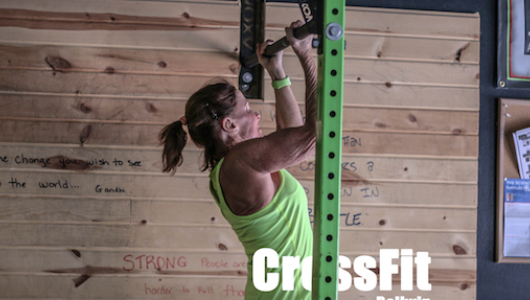 Tish Hanna
Warm-up
Burgener Warm-Up (No Measure)
1. Down and "Finish"

2. Elbows High and Outside

3. Muscle Snatch

4. Snatch Lands at 2″, 4″, 6″

5. Snatch Drops
-Our goal is to start having you able to do this complex on your own & understand the goal behind it.

-Run through it multiple times; light at first then move to a barbell.
Strength & Skill
Switch between Primary 1 & Primary 2 movements ever TWO min for 14 min.
PRIM1: Double-Unders (Practice/Tech)
Experienced athletes, start working toward Triple Unders.
PRIM2: Muscle Snatch (Practice/Technique )
Athletes that are experienced with the form, progress in weight for a heavy 3 rep
Metcon (3 Rounds for reps)
3 Rds for Reps (each movements):

1 min. Back Squat

**Rest 1 min.

1 min. Chest to Bar Pull-Ups

**Rest 1 min.

1 min. Power Cleans

**Rest 1 min.
Bar Weights:

Rx+ 185/125

Rx 135/95

Sc 95/65
*Bars are pulled from the ground & can be on the back prior to starting minute
Scoring:

1) Total Back Squat

2) Total Chest to Bar

3) Total Power Clean