CrossFit Ballwin – CrossFit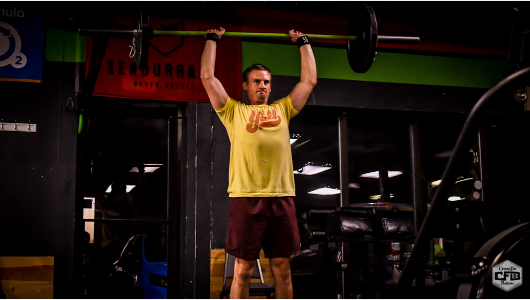 Daily Mindset
"Give more. Give what you didn't get. Love more. Drop the old story."

We often hold onto the past. And we all have felt ourselves do it. Sometimes they are worn as scars, sometimes like trophies. It's not uncommon to use past events as a chip on your shoulder. "They didn't believe in me". All of those are potent motivators. But they only last so long, as they are fleeting and weaker forms of ammunition.

When we "fight against" something, such as something in the past, we will only go so far. When we "fight for" something, it's different. It's purpose and meaning go beyond our singular life, transcending to something far bigger. This is where you can move mountains.

Do you hold onto something from the past? Can we reframe the mental dialogue?
Warm-up
40 Seconds Each

Easy Row

Active Samson

Air Squats to Medicine Ball

Moderate Row

Active Spidermans

Medicine Ball Slams

Faster Row

Push-up to Down Dog

Leg Lifts Over Medicine Ball
Mobility
Up Dog: 45 Seconds

Ankle Stretch with Medicine Ball: 30 Seconds Each Side

Squat Hold with Medicine Ball: 45 Seconds
Strength & Skill
Review "The Finish" for each movement.
Weightlifting
Back Squat (3 sets of 5 Reps)
Metcon
"Chasin' Waterfalls" (Time)
4 Rounds For Time:

30/24 Calorie Row

30 Wallballs (20/14)

30 AbMat Sit-ups
After Party
Stamina Squats

On the Minute x 8 (4 Rounds):

Minute 1: 5 Front Squats

Minute 2: 10 Back Squats

Barbell Loaded at 50% on 1RM Front Squat
Modifications
30/24 CALORIE ROW

21/15 Calorie Bike, or Ski Erg

400 Meter Run
30 WALLBALLS

50 Jumping Air Squats

30 Single Dumbbell Goblet Squats

30 Medicine Ball Squat Cleans
30 ABMAT SIT-UPS

Sit-ups with Feet Anchored