CrossFit Ballwin – CrossFit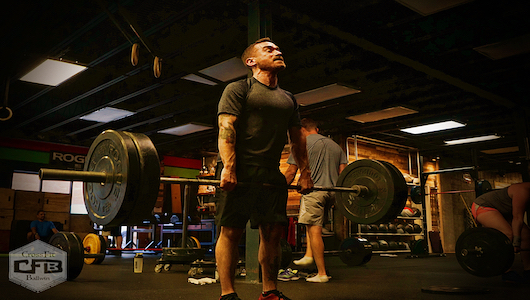 Ben Atkinson
Warm-up
General Movement:

Air Squat, Spiderman, Walkout Complex (coach led)
"Barbell Warm-Up"

5 Good Mornings

5 Back Squats

5 Elbow Rotations

5 Strict Presses

5 Stiff-Legged Deadlifts

5 Front Squats
Mobility
Spending some time opening up the front rack position and hips for the demands of "Nasty Girls".

Front Rack Stretch – 1:00

Laying on your chest, place our elbows out in front, arms bent at 90 degrees. The goal is to close the gap between the armpits and the floor, which will stretch the lats, shoulders, and triceps.

Pigeon Pose – 1:00 each side

Bring one leg in front of body with the other straight behind. The goal is to have the shin straight across with hips and shoulder squared forward. Lean forward over the front leg to dive deeper into stretch.
Strength & Skill
Review Movements Standards:

-Air Squat

-Muscle Up

-Build up in Hang Power Clean
Metcon
*Hang Power Cleans: weight selection should be something that athletes could complete 15+ repetitions without dropping when fresh. Within the workout, looking to push for 1-2 sets.
*Muscle-Ups Scaled:

1) For athletes who have some Ring Muscle-ups, but not quite 7 per round or 21 total, cut the repetitions in half or to a number that is manageable within the 15 minutes allowed for the workout.
2) For athletes who have goals of getting a muscle-up, perform a banded transition drill. Grab a pair of rings and thread a moderate tension band through them. Wrap them through a pull-up bar and sit in an "L" position on the floor. Keeping the rings close to the body, perform 7 banded, seated muscle-up transitions.
3) For athletes looking to get a great workout without goals of competing, perform one of the following:

7 Burpee Chest to Bar Pull-ups

7 Burpee Pull-ups

7 Burpees + 7 Ring Rows
Nasty Girls (Time)
3 Rounds for time of:
50 Air Squats
7 Muscle-ups
10 Hang Power Cleans, 135# / 95#