CrossFit Ballwin – CrossFit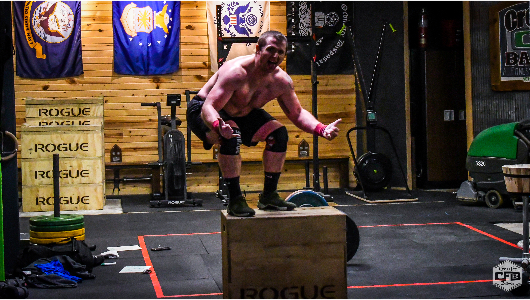 Daily Mindset
"Never confuse movement, with action." – Ernest Hemingway

We've all had that friend who is constantly busy. Always flying a million miles an hour, but… in all directions at once. And in turn, they find themselves in the same place a year later.

We don't want to just "move" through life, just like how we don't want to "exercise". We train. And we train, because our reps have a purpose behind them. There's something we're building towards that specific, defined, and real. We know which direction we are going.

Let's take that same discipline we have with our training outside the gym walls. Are there areas of life where we feel like we may be going through the motions? How can we refine them?
Warm-up
Mobility

1:30 Squat Hold
Activation

:20 Active Samson Stretch (each side)

:20 Leg Swings (each side)

:30 Arm Circles (double arm)

:30 Push-up to Down Dog
Get Hot

5-4-3-2-1

Ring Rows (or Single DB Rows)

Air Squats

Push-Ups

Straight Leg Sit-Ups
Strength & Skill
All Movements:

1. Active Shoulders
Snatch – Keep elbows behind the bar at all times.

Chest-to-Bar – Pull elbows back and down.

Overhead Squat – 'Martini' glass vs. 'Wine' glass. Elbows down, pinkies forward.

Bar-Facing Burpee – elbows close to the body.
Weightlifting
Pt 1: Pull-ups (Max Reps every 2:00 for 8 minutes )
Pt 2: Metcon (Weight)
1x Power Snatch, 2x Overhead Squat

• Build to a moderate (keep good form)

1 Complex every 2:00 for 8 minutes

• Clock 8:00-10:00-12:00-14:00
Metcon
"WIDE AWAKE" (Time)
21-15-9:

Power Snatches (95/65)

Chest to Bar Pull-ups

Directly Into…

21-15-9:

Overhead Squats (95/65)

Barbell Facing Burpees
MODIFICATION 1

21-15-9:

Power Snatches (75/55)

Pull-ups

Directly Into…

21-15-9:

Overhead Squats (75/55)

Barbell Facing Burpees
MODIFICATION 2

21-15-9:

Power Snatches (55/35)

Jumping Chest to Bar Pull-ups

Directly Into…

21-15-9:

Overhead Squats (55/35)

Barbell Facing Burpees w/ Step-Over
After Party
COOL-DOWN

:30 Shoulder to Floor Stretch (each side)

:30 Pigeon Stretch (each side)

:30 Pike Stretch
BEYOND THE 60

[Designed for members wanting a little more – to be completed outside of the 60-minute class]

3 Sets For Quality:

50 Ft. Double Kettlebell Front Rack Walking Lunge

15 GHD Hip Extension with :10s Hold to Finish
Modifications
POWER SNATCH

Decrease Load/Reps

From the Hang

Single Dumbbell Power Snatch
CHEST TO BAR PULL-UP

Decrease Reps

Kipping Pull-ups

Strict Pull-ups

Banded Pull-ups

Jumping Pull-ups
OVERHEAD SQUAT

Decrease Load/Reps

Define Range of Motion (Squat to a target)

Front Squat
BAR FACING BURPEE

Decrease Reps

Step over Bar

Burpees in place

"No-push-up" burpee