CrossFit Ballwin – CrossFit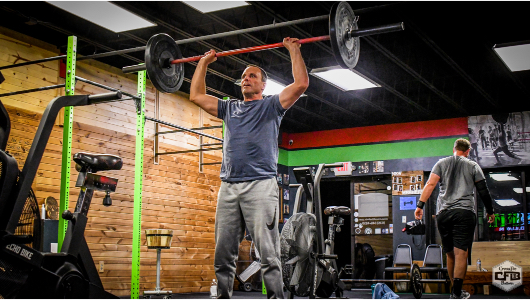 Daily Mindset
"Don't tell me who you are. Tell me what you are."

When we are asked "who" we are, we default to our past. We define ourselves by our resumes. Although our past may give us insight of where we've been, it cannot be what defines us… for it's the past.

When the question however asks "what" we are, we tend to give a different answer. We describe who we really are. It's one of character, values and beliefs.

Will we be defined by who we've been in the past, or by what we stand for today? Let character be our loudest statement.
Warm-up
2 Rounds

30 Seconds Each

Easy-Moderate Bike

Inchworm to Push-up

Glute Bridge Walkouts

Kneeling Single Arm Dumbbell Strict Press (Each Side)

Performed with Lighter Dumbbell
Barbell Warmup

5 Good Mornings

5 Back Squats

5 Elbow Rotations

5 Strict Press & Reach

5 Romanian Deadlifts

5 Front Squats
Mobility
Single Arm Lat Stretch on Wall: 45 Seconds Each Side

Pigeon Pose on Wall: 90 Seconds Each Side
Strength & Skill
Review "Lockout" with each position.
Metcon
"Side Effects" (Time)
5 Rounds For Time:

5 Deadlifts (245/165)

20 Double Dumbbell 1-Arm Push Press (50/35)

20/15 Calorie Bike
After Party
AFTER PARTY

Ring Muscle-Up Benchmark

For Time:

30 Ring Muscle-ups

Every 3 Minutes [Starting on the 0:00]:

300/250 Meter Row

6 Lateral Burpees Over Rower

15:00 Time Cap
Modifications
DEADLIFTS

20 Double Dumbbell Deadlifts
DOUBLE DUMBBELL 1-ARM PUSH PRESS

10 Single Dumbbell Push Press (Each Side)
20/15 CALORIE BIKE

30/24 Calorie Row

20/15 Calorie Ski Erg

200 Meter Weighted Run