CrossFit Ballwin – CrossFit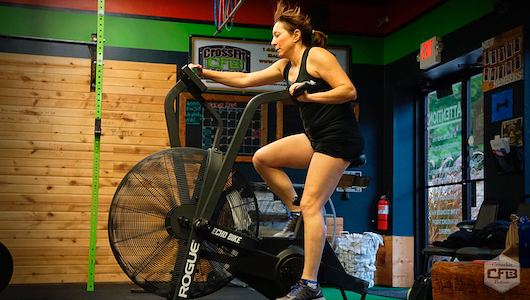 Karen Shanker
Warm-up
Warm Up # 8 (Shuttle) (No Measure)
**Shuttle Distance Set @ 30 ft.

**Reps are down & back.
3 x Light Jog

2 x Crossover

1 x Walking Lunge

1 x Crocodile Walk

1 x Inch Worm

2 x Crossover

3 x Light Jog
Metcon
Metcon (Time)
With Partner for Time:

60 Lateral Pumpkin Jumps

90 Pumpkin Push Presses

120 Pumpkin Goblet Squats

90 Pumpkin Squat cleans

60 Pumpkin Box Jumps
Pumpkin Sizes:

Rx+ 30/20

Rx 20/14

Sc 14/10
Box Height:

20 inches
**Break up the work as needed between partners. Working partners must have the "pumpkin". After lateral jumps, there is a 5 burpee penalty for both partners each time the "pumpkin" touches the ground before the workout ends.