CrossFit Ballwin – CrossFit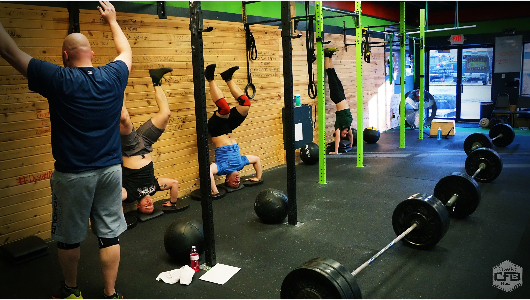 Daily Mindset
"Water the flowers, not the weeds."

Imagine your vision being a water hose. And wherever your attention goes, you water. Whatever we water… grows.

There is truth behind this. Every day, we are going to spend our water (our thoughts), on something. There is a finite amount. If we choose to spend it on the weeds, the negatives in life, those thoughts will grow into reality.

But the opposite is also true. Check in with ourselves today. Are we watering the flowers, or the weeds?
Warm-up
Warmup Run

400 Meter Easy Jog
30 Seconds

Down Dog

Single Arm Dumbbell Rows (30 Seconds Each)

Inchworm to Push-ups

Single Arm Dumbbell Deadlifts (30 Seconds Each)

Hollow Hold

Single Arm Dumbbell Strict Presses (30 Seconds Each)

Arch Hold

*Performed With Lighter Dumbbell
Mobility
Banded Lat Stretch: 40 Seconds Each Side

Banded Hamstring Stretch: 40 Seconds Each Side
Strength & Skill
Review "Timing of the Pull" on each movement.
Metcon
"Space Needle" (Time)
For Time:

600 Meter Run

30 Chest to Bar Pull-ups

600 Meter Run

50 Alternating Dumbbell Power Snatches (70/50)

600 Meter Run

30 Chest to Bar Pull-ups

600 Meter Run
After Party
Body Armor

3 Supersets:

Max Reps Barbell Bench (165/115)

100 Meter Double Kettlebell Front Rack Carry (53's/35's)

Rest 2 Minutes Between Sets