CrossFit Ballwin – CrossFit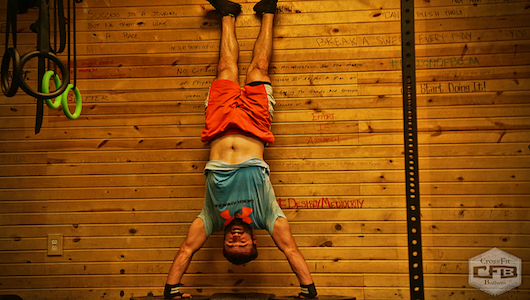 Nick Johnson
Warm-up
200 Meter Run

—————

25ft Line Drills:

Soldier Kicks

Quad Stretch

Walking Samson Stretch

Walking Spidermans

Side Lunge

Side Shuffle (facing in)

Side Shuffle (facing out)

Bear Crawl

Crab Walk (forward)

Straight Leg Bear Crawl

Crab Walk (backwards)
Mobility
Child's Pose – 1:00

From hands and knees, sit back onto the lower legs and reach arms as far in front as possible. Drop head and chest towards the floor using the fingertips to wiggle forwards into a deeper stretch.

Lat Stretch – 10 reps each side

Start in similar position to child's pose. Reach straight arm across body to opposite side of the with pinky side of hand in contact with the floor. Slowly drag hand back towards body by sending hips backwards. Alternate for 20 reps total, 10 each side.
Metcon
Metcon (Time)
28JUN2018

For Time 27-21-15-9 Reps

Kettlebell Swings (70/53)

Burpees

400m Run
**Heavier load on the kettlebell, but a weight that athletes could complete a max effort set of 30+ repetitions when completely fresh. If athletes are unable to go overhead, a Russian Kettlebell Swing to eye-level can be substituted.

**For athletes unable to run, substitutions are listed below:

500 Meter Row

28/20 Cal Bike