CrossFit Ballwin – CrossFit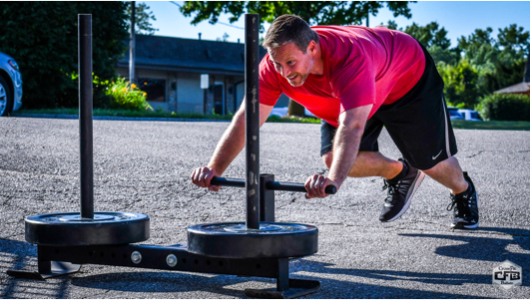 Daily Mindset
THE 5 FACTORS OF HEALTH PRESCRIPTION

First let's start by defining HEALTH.

If you were to google "definition of health" you would find: "the state of being free from illness or injury" . . . YIKES! Lucky for us, we know that Health is much more than that. We want it to be much more than that; we want it to be more than that for ourselves, our families, our friends, our athletes, really everyone. Redefining health and creating healthy humans is most likely the "why" behind everything we do.
CrossFit defines Health as "your work capacity across broad time and modal domains." Let's break that down a bit. . .

-Work Capacity: the ability to do physical activity. . . squatting, lunging, jumping, shoveling your driveway, playing with kids, hiking, helping your friends move a couch, etc.

-Across Broad Time: fitness measured across your lifetime. Not just peaking in your 20's but maintaining fitness into your 90's.

-Modal Domains: varied intensities and duration demands. . . pushing your stuck car, sprinting to your child, playing hours of soccer with your kids, going on that backpacking trip with your grandchildren, etc.
Said simply, being able to LIVE your entire life. Not just existing free of disease and injury; but truly living a meaningful life.
What are The 5 Factors of Health that make this possible?

The way we. . .

EAT: Real Food, Not Too Much, & Mostly Plants

SLEEP: 7-8hrs A Night; Every Night

TRAIN: 5x A Week of Constantly Varied Functional Movements Performed at High Intensity

THINK: Cultivating A Genuinely Positive Mindset

CONNECT: Build, Sustain, & Grow Meaningful Relationships
Warm-up
0:15 Dead Hang from the Pull-Up Bar

0:30 Inch Worm to Push Up

0:30 Downdog

0:15 Scap Retractions on Pull-Up Bar

0:30 Child's Pose

0:30 Active SPiderman

0:15 Little Kip Swings

1-3 Strict Pull-Ups
Weightlifting
Weighted Pull-ups (E2MOM 10 Find Heavy 2 Rep or 5 eccentric Pull-up)
Metcon
"INDY 500" (AMRAP – Rounds and Reps)
[COMPETE/TRAIN]
AMRAP 20:

5 Strict Pull-ups

10 Alternating Dumbbell Snatches (70/50)

15 Lateral Dumbbell Burpees
[SWEAT] Use:

Weight – 50/35
After Party
MOBILITY

1:00 Child's Pose

1:00 Pike Stretch
Modifications
STRICT PULL-UPS

-Reduce Reps

-Banded Strict Pull-Ups

-8 Ring Rows

-Alternating Double Dumbbell Plank Rows
DUMBBELL POWER SNATCHES

-Reduce Reps

-Reduce Load

-Kettlebell Swings

-Barbell Power Snatches
LATERAL DUMBBELL BURPEES

-Reduce Reps

-Regular Burpees