CrossFit Ballwin – CrossFit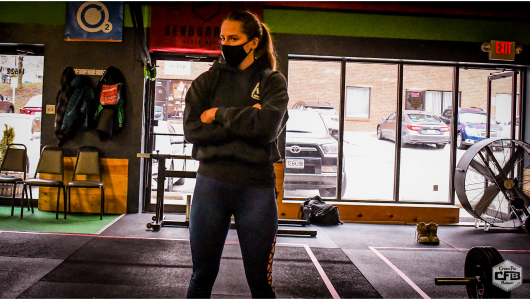 Daily Mindset
"Live life on purpose" – Simon Sinek

As simple as this sounds, every action we take in our lives should have a clear and defined purpose.

As an analogy, let's use money. When we spend money, there's a reason. Food for tonight's dinner, a new pair of shoes, gasoline. It's very easy to justify. We would never throw our money into the wind. Yet… we can often find ourselves doing so with our time.

Unlike money, which can cycle back around on the next paycheck, we don't get restocked on time. Be it a morbid thought, we know our days here are limited… time is our most precious, irreplaceable resource.

As we move through our day, take an objective look at the actions we take. Like a CFO analyzing a day of business, reflect tonight on where we spent our time. Because at "years-end-summary", when our time comes… let's be proud about how we chose to spend those resources. We only get one chance to do so.
Warm-up
Row Warmup

2 Minutes Easy
30 Seconds Each

Glute Bridges

Single Leg Glute Bridge (Right)

Single Leg Glute Bridge (Left)

Glute Bridge Walkouts

Plank Shoulder Taps

Push-up to Down Dog
Barbell Warmup

5 Good Mornings

5 Back Squats

5 Elbow Rotations

5 Strict Press & Reach

5 Romanian Deadlifts

5 Front Squats
Mobility
Barbell Thoracic Opener: 2 Minutes

Kneeling Hamstring Stretch: 45 Seconds Each Side

Calves Foam Roll: 45 Seconds Each Side
Strength & Skill
Review "Three Points of Contact" for movements.
Weightlifting
Back Squat (3 Sets of 5 Reps)
Build off of last week & go a little heavier.
Metcon
CrossFit Games Open 16.4 and 17.4 (AMRAP – Reps)
13-Minute AMRAP:

55 Deadlifts, 225# / 155#

55 Wall-Ball Shots, 20# / 14#

55 Calorie Row

55 Handstand Push-ups
CrossFit Games Open 16.4 and 17.4 Scaled (AMRAP – Reps)
13-Minute AMRAP:

55 Deadlifts, 135# / 95#

55 Wall-Ball Shots, 20# / 10#

55 Calorie Row

55 Hand-Release Push-ups
CrossFit Games Open 16.4 & 17.4 — Beef'd Up (AMRAP – Reps)
AMRAP 13:

55 Deadlifts (225/155)

55 Wallballs (20/14)

55 Calorie Row

55 Strict Handstand Push-ups
After Party
Midline

15-12-9:

Strict Toes to Bar

Weighted Hip Extensions

Directly Into…

21-15-9:

Weighted Sit-ups

Pausing Hip Extensions (1 Second at Top)
Modifications
DEADLIFTS

Double Dumbbell Deadlifts

Single Dumbbell Deadlifts

Odd Object Deadlifts

Kettlebell Deadlifts
HANDSTAND PUSH-UPS

Barbell Push Press

Double Dumbbell Push Press

Single Dumbbell Push Press
WALLBALLS

Jumping Air Squats

Single Dumbbell Goblet Squats

Medicine Ball Squat Cleans
ROW

Equal Calories Any Machine

55 Shuttle Runs [10 Meters]