CrossFit Ballwin – CrossFit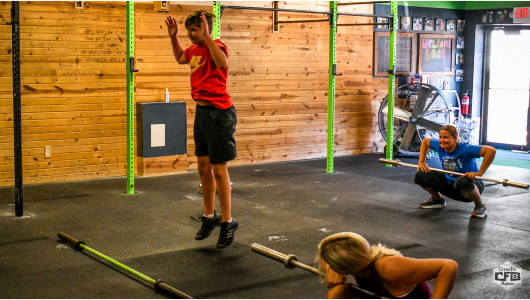 Daily Mindset
"We are what we repeatedly do. Excellence then, is not an act, but a habit." – Aristotle
One of the most challenging things we can do, is to reflect. To reflect, with brutal honesty.
This quote can be applied in many ways, but it's most commonly applied to the physical acts of our days. Whether we show up to the gym at 5:30am to train. Whether we eat the proper food we brought to work with us, or order out for lunch.
What's more challenging, is to look further inward. And reflect, with brutal honesty, on our thoughts. The way we think.
When we missed the lift, what were our immediate thoughts?

When we were cut off on the road by another car, what did we say to ourselves?

When the gossip arrived in the locker room, what did we first think?
If our thoughts become actions, this must be where we start.
Warm-up
AMRAP 5:

100 Meters of "Rowling"

*Goal is to land exactly on 100 meters. Any number away from 100, above or below, is your score (97 or 103 = Score of 3). Complete the number you were away as penalty before starting the next round. Don't reset the monitor, just go to next 100 meters. Ideas for penalties are burpees, abmat sit-ups, kettlebell deadlifts, Russian kettlebell swings, kettlebell farmers carry.
Mobility
Couch Stretch: 1 Minute Each Side

Child's Pose on Kettlebell: 30 Seconds
Strength & Skill
Kettlebell Swings:

1. Shins

2. Wrists

3. Move Prep
Row:

1. Shins

2. Move Prep
AbMat Sit-Ups:

1. Breathing

2. Move Prep
Metcon
"Tee Time" (Time)
5 Rounds:

20 Kettlebell Swings (70/53)

35 AbMat Sit-ups

500/400 Meter Row
After Party
Cool Down

10-15 Minutes of Stretching & Rolling

Recommended Targets:

Lats

Upper Back

Glutes

Quads