CrossFit Ballwin – CrossFit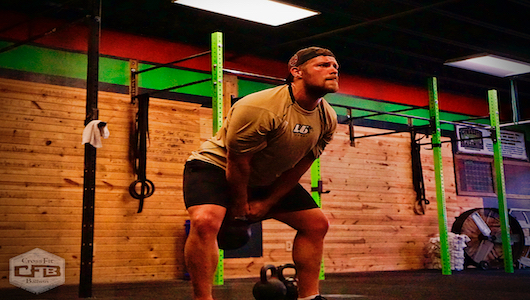 Jeremy Chacon
Warm-up
General Movements:

:20 seconds jumping jacks

5 Push-ups

:20 seconds active spidermans

4 Push-ups

:20 seconds active samson

3 Push-ups

:20 seconds air squats

2 Push-ups

:20 seconds knuckle draggers

1 Push-up

:20 seconds jumping jacks
"Barbell Warm-up"

5 Good Mornings

5 Back Squats

5 Elbow Rotations

5 Strict Presses

5 Stiff-Legged Deadlifts

5 Front Squats
Mobility
Take some time at the end of the week to work a little TLC on the body:

Pigeon Pose – 1:00 each side

Child's Pose – 1:00

Lat Stretch – 10 reps each side

Couch Stretch – 2:00 each side
Strength & Skill
Specific Movements:

-Review mechanics & slowly build to the your opening weight for the metcon.

-Kipping movements in the Toes to Bar

-Find scaling movements that can be completed under :50 sec
Toes to Bar:

A. Cut Repetitions to 3

B. Hanging Knee Ups (to shoulders)

C. Full Sit Ups
Push-up:

A. Cut Repetitions to 5-7

B. Elevate to Box or Bench
Metcon
**Alternating between body weight movements in "BWC" and weightlifting with the deadlift. Our focus on the deadlift today is about building to something heavy for three repetitions. At the end of the week of training, not looking to set any PR's here. We want you moving exceptionally well on these. They don't have to climb in weight every set, but you should start out moderate and build several times across the 10 sets.
Metcon (AMRAP – Reps)
Alternating 20 EMOM

EVEN min: 1 Round of Body Weight Complex (BWC)

ODD min: 3 Deadlifts (Climb in Weight)
1 Rounds of BWC:

6 Toes to Bar

12 Push-ups

18 Air Squats
*Points are total reps completed. In comment section place your heaviest of 3 reps.