CrossFit Ballwin – CrossFit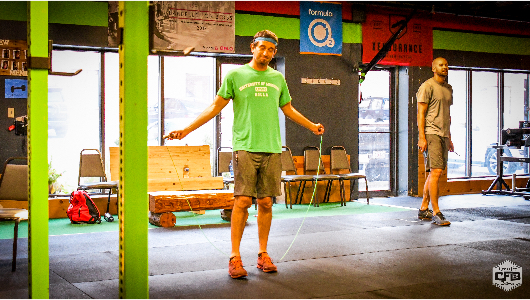 Daily Mindset
"Choices reveal our intentions."

Every choice we make today is a vote in a certain direction.

If we choose to hit the snooze button today, we are more likely to hit it again tomorrow.

If we choose to have the snack we shouldn't be having today, we're more likely to have the same tomorrow.

If we choose to allow negative thoughts to take hold in our mind, we're more likely to let additional ones consume the rest of our lives.

We realize that the choices we make ultimately will result in the person we become.

Accountable to our thoughts, responsible to our actions.
Mobility
Pigeon Pose: 1 Minute Each

Calf Stretch on Post: 45 Seconds Each

Kneeling Hamstring Stretch: 45 Seconds Each
Warm-up
30 Seconds Each

Easy Single Unders

Easy Bike

Down Dog

Quick Single Unders

Easy-Moderate Bike

Front Plank (On Elbows)

High Single Unders

Moderate Bike

Inchworm to Push-ups
Barbell Warmup

5 Good Mornings

5 Back Squats

5 Elbow Rotations

5 Strict Press & Reach

5 Romanian Deadlifts

5 Front Squats
Strength & Skill
Review "Shoulders" in each movement.
Metcon
"Paul Bunyan" (AMRAP – Rounds and Reps)
AMRAP 15:

60 Double Unders

20/15 Calorie Bike

15 Deadlifts (225/155)
After Party
Body Armor

3 Sets of 15: Weighted Glute Bridges

3 Sets of 12: Double Kettlebell Front Rack Box Step-Ups (6 Each Leg)

3 Sets of 9: Strict Toes to Bar

Rest 1:00-1:30 Between Each Set
Modifications
60 DOUBLE UNDERS

Reduce Reps

Single Unders

1 Minute of Practice

60 Double Taps

90 Line Hops

30 Over-and-Back Dumbbell Hops
20/15 BIKE

Equal Calorie Bike

25/18 Calorie Row

400 Meter Run
15 DEADLIFTS

20 Double Dumbbell or Kettlebell Deadlifts

30 Single Dumbbell Deadlifts

30 Odd Object Deadlifts