CrossFit Ballwin – CrossFit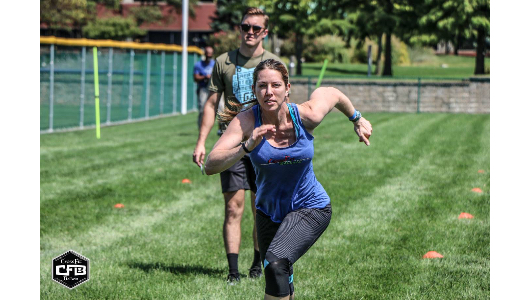 Daily Mindset
"Only a man who knows what it's like to be defeated, can reach down to the bottom of his soul with the extra ounce of power to win, when the match is even." – Mohammed Ali
It's commonplace to look at mistakes, miscues, and losses as negatives. And it's even more common, to view them as setbacks. Yet here, one of the greatest of all time, offers the difference maker in an otherwise even fight between two opponents:
Failure.
Through the experience of failure, the fighter becomes the victor. Not because of the pain of loss, or the embarrassment of defeat. But through viewing failure as a chance to start again, more equipped. More prepared. More experienced.
Warm-up
30 Seconds Each

Single Unders

Easy Bike

Push-up to Down Dog
Single Unders

Easy-Moderate Bike

Front Plank on Hands
Single Unders

Moderate Bike

Shoulder Taps
Single Unders

Faster Bike

Mountain Climbers
Mobility
Chest Stretch on Wall: 45 Seconds Each Side

Wrist Stretch: 30 Seconds Each Direction
Strength & Skill
Review in "Elbows Back" in all movements.
Metcon
"Underground" (Time)
For Time [30 Minute Cap]:

100 Double Unders, 50 AbMat Sit-ups

25 Hand Release Push-ups

80 Double Unders, 40 AbMat Sit-ups

20 Hand Release Push-ups

60 Double Unders, 30 AbMat Sit-ups

15 Hand Release Push-ups

40 Double Unders, 20 AbMat Sit-ups

10 Hand Release Push-ups

20 Double Unders, 10 AbMat Sit-ups

5 Hand Release Push-ups
Every 3 Minutes [Starting at 0:00]:

12/9 Calorie Bike
After Party
Gymnastic Capacity

AMRAP 2: Handstand Walk

Rest 30 Seconds

AMRAP 2: Dead Stop Strict Handstand Push-ups (1 Second Pause in Bottom)

Rest 30 Seconds

AMRAP 2: Handstand Walk