CrossFit Ballwin – CrossFit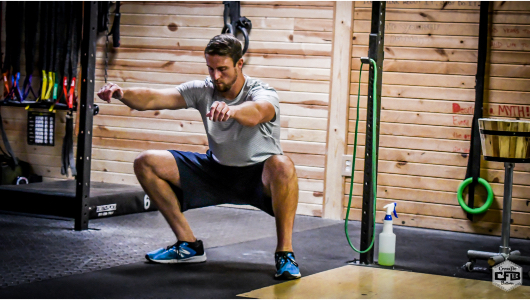 Daily Mindset
"It doesn't matter when we start. It doesn't matter where we start. All that matters is that we start."

If you're human, you've felt the burn of waiting too long.

Felt the pain of a missed opportunity, not due to action, but mis-action.

It is wise of us to recognize that it is a human condition to await the better setup. It is our nature to be risk-averse. We want safety, and guaranteed results. Yet the unfortunate guarantee there is that we'll wake tomorrow in the same place we are today… if not worse.

Just start.

Whatever it is, you're not too old. You're not too young. You're not too busy, too poor, too unprepared. You're not too tired, too uneducated, and you're not too weak. You're ready. The perfect time is now.
Warm-up
1 Minute Each

Down Dog

Box Step-ups

Active Spidermans

Lateral Box Step-Overs

3 Frog Hops + 6 Air Squats (AMRAP For Quality)
Barbell Warmup

5 Good Mornings

5 Back Squats

5 Elbow Rotations

5 Strict Press & Reach

5 Romanian Deadlifts

5 Front Squats
Mobility
Forearm Stretch on Box: 30 Seconds

Pigeon Pose on Box: 1 Minute Each Side
Strength & Skill
Review "Strong Turnover" for each movement.
Weightlifting
Clean and Jerk (Build to a Heavy Single)
Metcon
"Jumpin', Jumpin'" (Time)
15-12-9:

Burpee Box Jumps (24″/20″)

Power Clean and Jerks (135/95)
After Party
Strict Gymnastics

10-9-8-7-6-5-4-3-2-1:

Strict Pull-ups

Strict Handstand Push-ups
Modifications
BURPEE BOX JUMPS

2x Burpees

Burpee Broad Jumps
POWER CLEAN AND JERKS

Equal Rep Double Dumbbell Power Clean and Jerks

2x Single Dumbbell Power Clean and Jerks

3x Odd Object Power Clean and Jerks

3x Slamballs