CrossFit Ballwin – CrossFit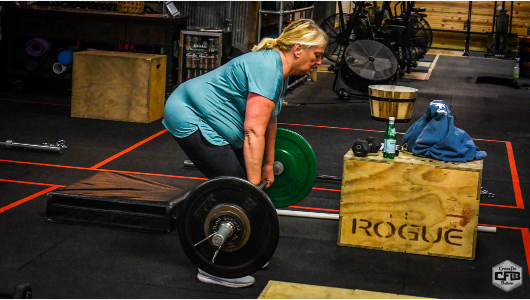 Daily Mindset
"The opposite of play is not work. The opposite of play is depression." – Brene Brown

Sometimes along the way, we forget that we love what we do. The choice of words there was intentional.

Suddenly things become a "job".

Things used to be fun.

It used to excite us.

Now… not so much.

And we ask ourselves that question… "What happened?"

When we are here, it's a must to remind ourselves: love is a two-way street. And it takes work to love. Unlike the portrayal in the movies, there's commitment with hard work, sweat and tears. But through that, if we can see it all the way, is the irreplaceable fulfillment. We must learn, or maybe better said re-learn, to love what we do.

Think back to what excited us the most when we started. What ignited the fire. What wakes us up in the morning. It's there. Not lost to "work", and just in need of a rekindling.
Warm-up
Rowling:

-Play as an AMRAP 6

-Goal is To Land Exactly On 100 Meters

-Every Meter Under or Over = 1 Burpee + 1 Air Squat

-Example: 99 or 101 Meters = 1 Burpee + 1 Air Squat

-Reset the Monitor Each Round
Mobility
Kettlebell Ankle Stretch: 1 Minute Each Side

Kettlebell Thoracic Opener: 1 Minute
Strength & Skill
Review "Weightless" for each movement.
Weightlifting
On a Running Clock:

[0:00]: 10 Strict Press

[3:00]: 8 Strict Press

[6:00]: 6 Strict Press

[9:00]: 4 Strict Press

[12:00]: 2 Strict Press
Shoulder Press (Follow reps according to the running clock)
Metcon
"On To The Next One" (AMRAP – Rounds and Reps)
AMRAP 20:

20 Kettlebell Swings (53/35)

20 Wallballs (20/14)

20/15 Calorie Row
"On To The Next One" – Beef'd Up (AMRAP – Rounds and Reps)
AMRAP 20:

20 Single Dumbbell Hang Power Snatches (50/35)

20 Single Arm Dumbbell Thrusters (50/35)

20/15 Calorie Row
After Party
Cool Down

10-15 Minutes of Stretching & Rolling

Recommended Targets:

Quads

Glutes

Upper Back

Hamstrings
Modifications
KETTLEBELL SWING

20 Single Arm Russian Dumbbell Swings

20 Odd Object Ground to Overhead

10 Single Arm Dumbbell Devil's Press

20 Single Arm Dumbbell Snatches
WALLBALLS

20 Single Dumbbell Goblet Squats

20 Single Dumbbell Thrusters

20 Medicine Ball Squat Cleans
ROW

Equal Calories Any Machine

200 Meter Run

20 Shuttle Runs [10 Meters]