CrossFit Ballwin – CrossFit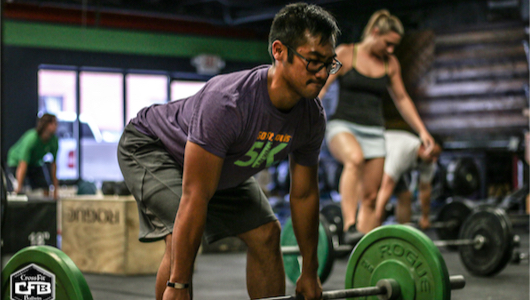 Tim Villaverde
Warm-up
Warm Up # 1 (Jump Rope) (No Measure)
2 Rounds of:
2 Min. Jump Rope

10 x Slow Deep Air Squats

10 x Slow Strict Press (PVC/Bar)

10 x Lunging Dislocates

10 x Sit Ups
Have your legs warmed up & ready to go before class.
Strength & Skill
Back Squat (10/3-10/3-10/3-10/3)
Don't get too involved with the percentage based lifts on these, unless you know them & can move quickly. The training premise is for you to hit higher rep, then adapt remaining ATP in the system. 10's should be between 40-60% & 3's should be between 80-90%. Stay on task & tempo w/ the clock.
Metcon
Metcon (8 Rounds for time)
8 Rds Each Timed:
3 Curtis P Complex

6 Hand Release Push-Up

12 Grasshoppers (L/R=1)
60 sec Rest Between Rds
*CPC: Hang Squat Clean + Lunge + Lunge + Push Press
Bar Weights:

Rx+ 155

Rx 115

Sc 85/55-35