CrossFit Ballwin – CrossFit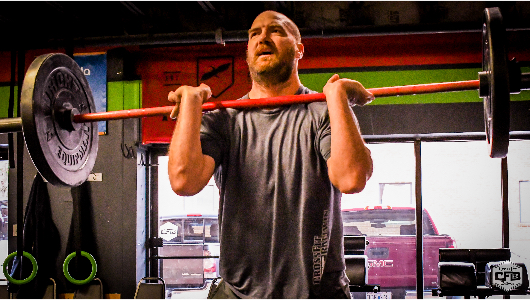 Daily Mindset
"Problems are simply opportunities in work clothes"

In Chinese, "crisis" is written with two symbols. In the English language, these translate to "Danger", and "Opportunity". These two words summarize our emotional connection to adversity very well.

Problems feel "dangerous", because we'd rather be comfortable, cozy, and safe. It's a human condition… we don't like change. But problems are also full of "opportunity", as the uncomfortable hot mess of adversity is the greatest catalyst to our growth.

Our greatest opportunities in life will also be our most trying. And if we can reframe those "problems" to being the enablers of growth… we can go wherever we want to go. We just need to suit up and get to work.
Warm Up
Row Warmup

2 Minutes Easy
30 Seconds Each

Lateral Squats

Glute Bridges

Single Leg Glute Bridge (Right)

Single Leg Glute Bridge (Left)

Glute Bridge Walkouts

Wall Squats
Barbell Warmup

5 Good Mornings

5 Back Squats

5 Elbow Rotations

5 Strict Press & Reach

5 Romanian Deadlifts

5 Front Squats
Mobility
Wall Twist: 1 Minute Each Side

Single Arm Lat Stretch on Wall: 1 Minute Each Side
Strength & Skill
Review "Shoulders, Hips, and Heels" on each movement.
Metcon
"Wiped Clean" (1 Rounds for time)
On the 4:00 x 5 Rounds:

30 Air Squats

20/15 Calorie Row

7 Power Clean and Jerks (135/95)
-The score is the slowest of the 5 rounds
After Party
Midline

4 Rounds:

:20 Seconds GHD Sit-ups

:10 Seconds Rest

:20 Seconds GHD Face Up Hold

:10 Seconds Rest
Directly Into…
4 Rounds:

:20 Seconds GHD Hip Extensions

:10 Seconds Rest

:20 Seconds GHD Hip Extension Hold

:10 Seconds Rest
Modifications
POWER CLEAN AND JERKS

10 Double Dumbbell Clean and Jerks
ROW

15/12 Calorie Bike

200 Meter Run