CrossFit Ballwin – CrossFit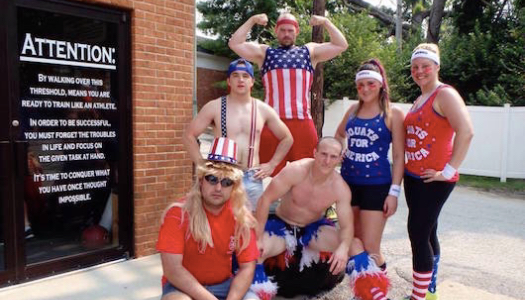 Bring your "A" game.
Warm-up
Warm Up # 3 (MLB) (No Measure)
Two Rounds
10 x Air Squats

10 x Alternating Lunges

10 x Alt. Jump Lunges

5 x Jump Squats

10 x Push Ups

5 x Pull Ups
Stretch between rounds.
Metcon
America's Party (Time)
With a partner, complete 13 Rds for time of:

17 Power Cleans (135/95)

76 Air Squats
After each round, move the bar 200 meters. Choose between two methods.

1) Break the barbell down & each person carries the barbell or weights.

2) The wheelbarrow method 🙂
*Time Cap is set at 60 min.

*Partners may break-up reps as needed, only one working at a time.
1776- Declaration of Independence

13- Colonies

Happy 4th, ya filthy animals!